Are you planning to import electronics to the United States? In this case, you shall verify whether your product falls under the scope of Title 47 CFR Part 15, which is enacted by the FCC.
In this article, we introduce the main requirements of FCC Part 15, including standards, documentation, labeling, and lab testing.

Product Scope and Devices Classification
FCC Part 15 mainly regulates electronic and electrical devices that have the ability to emit radiofrequency energy, and that might cause interference to devices that operate in the radio frequency range of 9 kHz to 3000 GHz.
Part 15 classifies devices into three different categories:
Unintentional Radiators
Intentional Radiators
Incidental Radiators
What is an Intentional Radiator?
An intentional radiator is defined as a device that generates and emits radio frequency energy by radiation or induction. This includes most Wi-Fi, 3G, 4G, 5G, Bluetooth, LTE or active RFID devices.
Examples of Intentional Radiators
Smartphones
Wireless microphones
Wireless routers
What is an Unintentional Radiator?
An unintentional radiator is defined as a device that intentionally generates radiofrequency energy for use within the devices, or that sends signals via connecting wiring, but which is not designed to emit radiofrequency energy by radiation or induction.
Examples of Unintentional Radiators
USB sticks
Wired mouses
External switching power suppliers
What is an Incidental Radiator?
An Incidental radiator generates or emits radiofrequency energy, even if it is not intentionally designed for it. Few devices are defined as incidental radiators, and they often act as components that are then integrated into devices that are classified as either unintentional or intentional radiators.
Therefore, when it comes to technical requirements, it's advisable to simply follow the ones of the final devices, which is usually an intentional or unintentional radiator.
Examples of IncidentalRadiators
Electrical motors
Mechanical light switches
Exempted Devices
Some devices are exempted from the specific technical standards and other requirements in FCC Part 15, including:
1. Devices that are ONLY used in appliances such as microwave ovens or dishwashers
2. Devices that consume less than 6 NW
3. Devices that are only used as industrial, commercial, or medical test equipment
Note that the FCC recommends that manufacturers or importers of exempted devices shall still verify their potential harm due to radiation or interference.
Technical Requirements
FCC Part 15 provides general technical requirements such as conducted limited, radiated emission limits, and antenna power conduction limits for both unintentional and intentional radiators.
Digital Device Classes
Before searching for applicable requirements, importers or manufacturers shall determine whether their device is class A or class B, according to the definition below.
Class A digital device
A digital device that is marketed for use in a commercial, industrial or business environment.
Class B digital device
A digital device that is marketed for use in a residential environment.
Technical requirements might differ according to the class of the device.
For example, the conducted limit of a class A device with a frequency emission of 0.15-0.5 (MHz), shall not exceed 56-66 Quasi-peak. However, for a Class B device with the same frequency emission, the conducted limit shall not exceed 79 Quasi-peak.
Importers and manufacturers can find more technical requirements on the FCC Part 15 Subpart B §15.101 – §15.123.
Operation Band
You can also search for specific technical requirements based on the operation band of the device. For each range of kHz band, the regulation sets limits for the followings:
Input power
Transmission line
Antenna
Field strength
Frequency tolerance
Unintentional radiators
For example, devices with a frequency of emission (MHz) between 0.5-5, shall not exceed 56 of the conducted limit in Quasi-peak. Also, the field strength shall not exceed 100 if the frequency of emission (MHz) is between 30-88.
For some specific categories of products, such as TV broadcast receivers and scanning receivers, the FCC also provides specific requirements.
Intentional radiators
For devices that work with a frequency (MHz) between 1.705-30.0, the field strength shall not exceed 30 (microvolts/meter), and the measurement distance shall not exceed 30 meters.
Also, in this case, there are specific requirements for some categories of products, for instance, wireless microphones
Measurement Standards
Part 15.31 provides several ANSI standards in regard to electromagnetic measurement, compliance testing requirements, and more, for both intentional and intentional radiators.
These standards outline the measurement procedures that shall be used to assess compliance with the technical requirements. Below we briefly describe some of the standards.
ANSI C63.4 – Measurement of Radio-Noise Emissions from Low-voltage equipment in the range of 9kHz to 40 GHz
FCC Part 15 requires unintentional radiators emissions to be measured using the ANSI C63.4. This standard specifies the methods, instrumentation, and facilities for devices' testing, with a focus on emitted signals and noise. Note that this standard does not cover product-specific emission limits.
ANSI/SCTE 54 – Digital video services multiplex and transport system standard for cable television
ANSI/SCTE 54 (formerly DVS 41) describes the transport system characteristics and normative specifications for cable television (unintentional radiators). It mainly focuses on both in-hand service multiplex and transport system. The FCC also states that the response to emergency alerts shall also be transmitted in compliance with ANSI/SCTE 54.
ANSI/SCTE 65 – Service Information Delivered Out-of-Band for Digital Cable Television
This standard is designed to support the navigation devices on cable. It specifies the private table section syntax including Private Message Body and Format Identifier. Also, it describes the different types of descriptors such as the AC-3 Audio descriptor, Content Advisory descriptor, and daylight savings time descriptor.
ANSI C63.10 – Compliance testing of unlicensed wireless devices
FCC Part 15 requires the emissions of certain intentional radiators to be measured using the ANSI C63.10. This standard provides the procedures for the measurement of radio frequency signals and noise emitted by wireless devices. Similar to ANSI C63.4, it does not include product-specific emission limits.
Documentation
In this section, we cover the documentation requirements that are necessary to comply with the regulation.
User Manual
The user manual shall instruct users on how to use the device properly. Typically, the manual shall include information such as:
Product installation
Power charging instruction
Product component details
How to correctly dispose of the devices
Safety instructions and potential hazards
Also, Part 15 requires importers or manufacturers shall include a note providing users with additional information. The note differs from class A and class B digital devices, and it shall be placed in a prominent location in the user manual.
The note shall include information such as:
The class of device (A or B)
Compliance statement
Risks related to radiations or interferences
Technical File
A technical file is somehow similar to the product specification, which includes product information such as design drawing, bill of materials, label files, list of applied standards, and risk assessment.
Even though Part 15 doesn't mention the necessity of creating one, technical files are often useful as a supporting document to assess product compliance. Therefore, it might still be beneficial to create one.
Supplier's Declaration of Conformity (SDoC)
According to FCC Part 15, radiofrequency devices shall be authorized prior to placement in the market. For most unintentional radiators, the authorization process requires submitting an SDoC, which is a document self-issued by the manufacturer or the importer.
There are, however, some exceptions. For some types of unintentional radiators, the certification procedure is required. We will cover the details in the next section of this article.
Here an overview of the information that shall be included in the SDoC:
Responsible party name (e.g. importer or manufacturer)
Responsible party address
Responsible party contact details
Product name
Model number
Compliance statement
Test reports*
Note that the SDoC's responsible party must be located in the United States. Manufacturers or importers located outside the United States shall appoint a telecommunication certification body (TCB) or other US representatives for carrying out the process.
*As explained further below, test reports are essential to show compliance.
Certification
Except when excluded by a specific rule, intentional radiators are required to be authorized using the certification procedure.
The certification is procedure is also necessary for some types of unintentional radiators, such as:
Scanning receivers
Radar detectors
Access broadband over power line (access BPL)
Process
1. Compliance tests must be carried out by an FCC-recognized accredited laboratory
2. The certificate can't be self-issued. Instead, it shall be issued by an FCC-recognized telecommunication certification body (TCB), which is also responsible for evaluating and accepting the overall documentation, including user manual, compliance statements, and more.
3. Importers or manufacturers must register using the FCC registration online platform – Commission's Registration System (CORES), by:
Selecting the business type
Following the guidelines
Submitting relevant information and documents
You can learn more about the authorization process on the official website of the FCC.
Finally, note that manufacturers and importers of devices for which an SDoC is sufficient can also choose to get approval via the certification procedure.
Test Report
Test reports are essential for demonstrating compliance with FCC Part 15. Most importers do not have the ability to test their devices according to the relevant requirement, therefore, we suggest that importers shall contact a reputable lab testing company to conduct the tests.
Notice that test reports are generally compulsory for both the SDoC and certification procedures.
Labeling Requirements
General Requirements
Devices that must comply with FCC Part 15 shall have an identification label, which shall be placed in on the device, and packaging, and provide information such as:
Responsible party name (e.g. importer or manufacturer)
Responsible party address
Responsible party contact details
Product Model / Serial number
Compliance statement
FCC ID (if applicable)
If the device is too small to affix a label, importers or manufacturers can place the label only on the product packaging.
FCC ID
An FCC ID label is mandatory for devices that are subject to the certification procedure. The FCC ID is composed of two parts:
1. The grantee code, which represents the applicant company for certification
2. The product code, which represents the product, and it's assigned by the application.
Manufacturers and importers must display the FCC ID on the product, in either physical or e-label form (for products that have a screen).
FCC Logo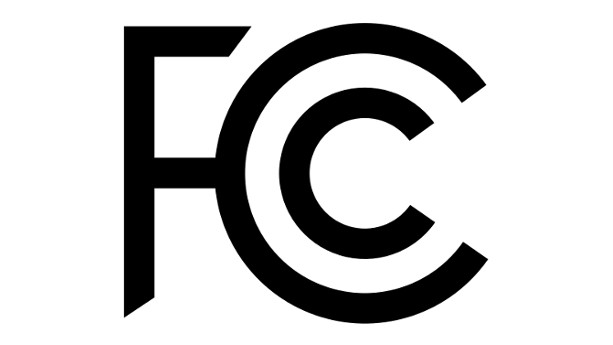 The FCC logo is now optional for devices that must be authorized via the SDoC procedure.
Note that when using the FCC logo, you shall make sure to use a version that is FCC-approved. You can download it on the official website.
Compliance statement
According to Part 15.19, most devices shall also bear the following statement:
This device complies with Part 15 of the FCC Rules. Operation is subject to the following two conditions: (1) This device may not cause harmful interference, and (2) this device must accept any interference received, including interference that may cause undesired operation.
If your device is a radio receiver or stand-alone cable input selector switch, you shall bear a different statement as below:
Radio receivers – This device complies with Part 15 of the FCC Rules. Operation is subject to the condition that this device does not cause harmful interference
or
Cable input selector switch – This device complies with Part 15 of the FCC Rules for use with cable television service
Other statements might be necessary for specific devices.
Lab Testing Requirements
When the certification authorization procedure is required, testing must be carried out by an FCC-recognized accredited laboratory. However, even when the SDoC procedure can be used instead, testing is still necessary.
Here we list some FCC-recognized accredited laboratories:
FCC Test TFAB
American Association for Laboratory Accreditation (A2LA)
Office of the Communications Authority (OFCA)
Laboratory Accreditation Bureau
You can find more labs by visiting the FCC website.