All food contact products sold in the European Union are subject to the EU Food Contact Material Framework Regulation (EC) No 1935/2004, and other material-specific FCM regulations. In this article, we explain what importers and Amazon sellers must know about substance restrictions, material-specific regulations, certification, lab testing, and risks.
Mentioned Products
Lunchboxes
Electronic kitchen appliances
Drinkware
Stainless steel bottles
Cutlery
Bowls
Jugs
Tableware
EU Regulation (EC) 1935/2004 (Framework Regulation)
According to the definition given by the European Food Safety Authority, FCMs refer to any materials and articles intended to come into contact with food and drinks.
The Regulation (EC) 1935/2004 enacted by European Commission requires that all FCMs manufactured, imported and sold in the EU market should be compliant to the Framework Regulation.
A wide range of materials including plastics, elastomer, ceramics, paper, and metal that could be used to make food contact articles should adhere to this regulation and such materials should not:
Release their constituents into food at levels harmful to human health
Change food composition, taste, and odor
Bring about changes in the taste or odor of the food
Product Traceability
Product traceability allows consumers to trace all processes of the product, from the procurement of raw materials to production, consumption, and disposal.
Traceability information should also be printed or engraved upon the product along with the FCM mark, beneath is the example of traceability information:
SKU
Manufacturing date
Production facility
Country code
Example: SKU-EF-76-CN
FCM lab testing
The European Commission had enacted extensive standards for FCM lab-test methods based on different parameters of the products, such as the material, quality, color, hardness degree, and more. Also, different regulations and EN standards might apply to different materials and products such as paper and board, plastics, cookware, tableware, and more.
To check whether your FCM products are compliant with the EU FCMs regulations, simply contact a third-party testing company, such as SGS, Bureau Veritas, QIMA, and Intertek for material analysis.
Testing costs
The costs of the FCM lab-tests generally range from $200-$300 for each item or food contact material. Different companies charge different rates depending on the materials, weights colors of the products, and also the testing packages you select for. To get further information on this topic, you can contact a lab-testing company such as QIMA, Bureau Veritas, or TUV.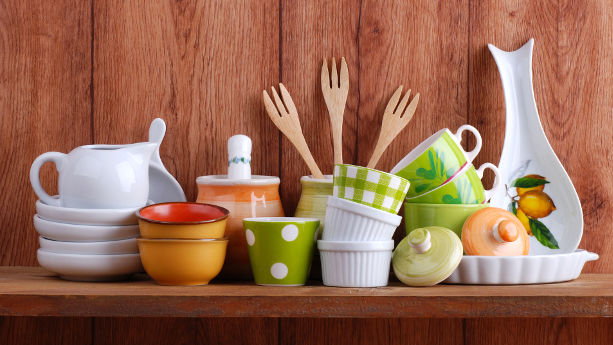 Plastic Materials: Regulation (EU) 10/2011
Importers should pay special attention to the following requirements before importing food contact material products that are made of plastics to the EU.
Commission Regulation (EU) 10/2011 intends to regulate the standards for food contact materials that are made of plastic, which includes the following scope:
Mono-layers and multi-layers plastics
Multi-material plastics
Coated or printed plastics
This regulation requires that only substances that are authorized may be used to manufacture food contact plastic materials and articles. According to the official legal document of the EU, the Union list contains:
Monomers
Some additives
Some polymer production aids
Microbial fermentation macromolecules
Importers should also provide eligible material migration test reports to relevant parties upon import.
Declaration of Compliance (DoC)
Business operators shall provide a DoC (Declaration of Compliance) for plastic food contact materials. The purpose of the Declaration of Compliance is to inform the customers about standards, test results, product specifications, importer profile, and other relevant information of the FCM products.
Importers or manufacturers must self-issue a DoC, and this document includes the following information:
Company
Address
Product name
Date
List of EU FCM regulations and standards
Types of food or beverage the FCM product is made for
Information about storage, time and temperature
Click here to download a DoC template provided by the Food Safety Authority of Ireland.
Bisphenol A in Plastic Infant Feeding Bottles: Regulation (EU) 321/2011
This regulation amends Regulation (EU) 10/2011 for the specific case of the restrictions of Bisphenol A (BPA) in polycarbonate infant feeding bottles.
Click here to learn more about this specific regulation.
Recycled Plastic Materials: Regulation (EC) 282/2008
Commission Regulation (EC) 282/2008, which is also known as the Recycling Regulation establishes the specific rules for food contact materials that are made from recycled plastic materials.
This regulation mandates that food contact material products that are made from recycled plastics are only allowed to be sold in the market if they are manufactured from plastics that conform to the recycling procedures approved by the EU.
Declaration of Compliance (DoC)
For recycled plastic FCM, a Declaration of Compliance is needed.
Ceramics: Directive 2005/31/EC
Directive 2005/31/EC was implemented for the purpose of reducing the risk of ceramic products that are intended to come into contact with foodstuffs of releasing harmful levels of cadmium and lead when entering the EU market.
Before importing ceramic food contact products to any of the member states of the European Union, manufacturers and importers should provide documentation demonstrating compliance with the migration limits, such as test reports for heavy-metal concentration.
Declaration of Compliance (DoC)
For ceramic, as for plastic FCM, a Declaration of Compliance is needed.
Regenerated Cellulose Film: Directive 2007/42/EC
Directive 2007/42/EC sets forth requirements and standards to materials and articles made of regenerated cellulose film intended to come into contact with food.
In particular, it requires that only authorized substances are allowed to be used to make regenerated cellulose films. In addition, printed surfaces of regenerated cellulose film shall not come into contact with foodstuffs.
Below are some authorized substances allowed to be used in the manufacturing process of regenerated cellulose film:
Sodium propionate
Amylose
Natural edible starches and flours
Ethanediol
Polyethylene oxide
Glycerol
Below are some examples of restricted substances:
Free formaldehyde
Residual Solvents
Toluene
Monoethylene glycol and dihydroxy diethyl ether
Declaration of Compliance (DoC)
For regenerated cellulose film, a Declaration of Compliance is needed only if it's not clear whether the product is intended to come into contact with foodstuffs or not.
Active and Intelligent Materials: Regulation (EC) No 450/2009
Regulation (EC) 450/2009 regulates the use of active and intelligent materials and articles sold within the European market. Active materials and articles are intended to maintain the condition of packaged food.
The list of active and intelligent materials are evaluated and assessed by EFSA (European Food Safety Authority) before their inclusion into a positive list. Only authorized and approved substances from the list are allowed to be in the use of active and intelligent materials. The list covers monomers, starting substances, additives, and polymer processing aids.
Here are some examples of substances from the positive list:
Albumin
Acetylacetic acid, salts
Cotton fibers
Glass fibers
Glass micro balls
Taurine, salts
Declaration of Compliance (DoC)
A declaration of compliance is needed also for these kinds of materials.
Products Originating or Consigned from China or Hong Kong: Regulation (EU) 284/2011
Regulation (EU) 284/2011 was implemented in all the member states of the European Union, for the purpose of avoiding certain kinds of plastic kitchenware imported from Mainland China or Hong Kong to the European market, which reportedly contained a higher level of polyamide or melamine.
This regulation requires that plastic kitchenware/tableware originating from or consigned in China and Hong Kong shall be imported into the European market, only if the importer provides a declaration and a laboratory report confirming that the related products are compliant with limits on the release of harmful chemicals such as formaldehyde or primary aromatic amines.
Legislations on Specific Substances
1. Regulation (EU) 2018/213 restricts bisphenol A in FCM coatings
2. Regulation 1895/2005/EC regulates epoxy derivatives used on FCM
3. Directive 93/11/EEC restricts the migration of N-nitrosamines and N-nitrosatable from rubber FMC
Regulation (EC) 2023/2006 (GMP)
In order to ensure the quality and compliance of the products sold in the market, the EU requires that manufacturers implement a sound and approved system during the manufacturing process of products, from material sourcing to production, quality control, which is the general principle of Good Manufacturing Practice.
GMP requires that:
1. Materials are pre-selected and procured;
2. The production and quality assurance process is carried out according to pre-established instructions;
3. Quality control and verification system is established;
4. Utilize good and proper production facilities during the manufacturing process.
In practice, this requires that you create a file that includes your quality control processes, lab testing processes, order documents, product specifications, company certificates (e.g. ISO 9001) and other relevant documents.
Covered materials
The GMP covers 17 kinds of materials, including ceramics, glass, metal, plastics, and wood.
You can learn more, including the full list of covered products, by reading the regulation.
Food Contact Material Symbol
FCM products sold in the EU market must contain the glass/fork symbol (as shown above), or the text "for food contact" unless:
a. it is obvious that the product is designed as FCM (ie. a fork), or
b. the products are sold with food as containers (ie. a take-away carton)
National European FCM Regulations
Several European countries implement domestic FCM regulations, below are some of the regional regulations for FCM products.
LFGB (Germany)
LFGB is the German abbreviation for the Food and Commodities Act, which is considered the most important food safety management act for Germany. LFGB is the guiding act for Germany's hygiene regulations and regulates the food and food-related products' safety standards in the country.
All the foodstuffs and food-related products are required to pass the corresponding tests and be compliant with LFGB in order to be put in the German market.
Generally speaking, LFGB is stricter than other European Food Contact Regulations, such as 1935/2004/EC.
Restricted substances
A wide range of substances and materials are regulated by LFGB, such as
Check the comprehensive overview of LFGB restricted substances on this page.
LFGB lab testing
In order to verify the compliance of your FCM products, hire a reputable lab-testing company such as TUV, SGS or Bureau Veritas and perform an assessment for your products.
Testing Process
The LFGB testing process includes the following steps:
Initial testing of samples and materials
Odor and taste transfer of sensory evaluation
Heavy metals detection
Testing of transferred or volatile organic compounds
Test for chemical hazards
Learn More
You can learn more about LFGB on the official website of the German BfR.
DGCCRF (France)
DGCCRF is the French abbreviation for the French General Directorate for Competition Policy, Consumer Affairs, and Fraud Control, which regulates and controls products within the French market at all levels, including production, import, and distribution. Regulating foodstuffs and food-related products is one of the main focuses of DGCCRF.
DGCCRF issued a series of documents in 2016, which set requirements for food contact materials made from inorganic material such as metal, ceramic, plastic, paper, wood or glass, organic materials made from synthetic fibers and organic materials made from plant fibers.
Restricted substances
The following substances are restricted to be used in most articles:
DGCCRF lab testing
In order to check the compliance of your FCM products, you can contact an accredited lab-testing company to perform an assessment.
Compliance Risks
Food contact products and materials manufactured outside the EU are not exclusively made to comply with European Union FCM regulations. Here are some compliance risk scenarios:
Plastic lunchboxes containing excessive amounts of BPA
Wooden coatings or paints containing phthalates
Bamboo melamine composites containing excessive amounts of toxic chemicals
Stainless steel drink bottles containing excessive amounts of lead and cadmium
Importing non-compliant food contact materials can result in fines and a forced recall. It's therefore essential to only work with suppliers that have a certain degree of 'substance control' – meaning that they have the capability to procure or produce compliant materials. This cannot be taken for granted when sourcing products in China, Vietnam and elsewhere in Asia.
The only way to assess a supplier's capability to produce compliant FCM products is by assessing their existing compliance track record. In other words, do they have a number of existing EU FCM test report proving that they have made compliant products in the past? If no, then they are less likely to have the capability to manufacture a compliant product.
That said, third-party lab testing is ultimately required when importing and selling food contact products in the EU. You cannot use existing test reports provided by the supplier to prove that your imported product is compliant.
Other Regulations
Food contact products are also subject to general consumer product regulations. Here's are some product regulations that, depending on the product, may apply:
REACH
General Product Safety Directive (GPSD)
Directive 94/62/EC on Packaging and Packaging Waste
Low Voltage Directive
EMC Directive
RoHS
Related Articles
Here is a list of articles that cover several types of food contact materials in detail: