Planning to import or export products to the European Union? In this guide, we explain what you must know about CE marking, WEEE, textiles labels, toy age warning, tracking ID and other mandatory labeling requirements in Europe.
You will also learn which file formats to use when creating your label files and how to instruct your supplier.
Suggestion: Watch the 15 minutes video tutorial before reading this article
CE Marking
The CE mark indicates that the product is compliant with all applicable 'CE directives', such as RoHS, EN 71 Toy Safety Directive and the Low Voltage Directive.
The CE mark is mandatory for all products falling within the scope of one such directive. Further, the CE mark should not be affixed on a product that is not covered by a 'CE directive'.
Product Examples
Android tablets
Smartphones
Chargers
Toys
Sunglasses
Helmets
Medical devices
Machinery
In addition the CE mark, the directives also require that the manufacturer or importer can provide a Declaration of Conformity (DoC), Technical file and user manual.
WEEE
The WEEE symbol indicates separate collection for waste electronics. The WEEE mark is mandatory for most electronics, imported and sold within the European Union.
The WEEE symbol can be present on the product, its packaging or both.
Product Examples
Refrigerators
Printers
Laptop computers
Video cameras
Bluetooth speakers
LED lights
Electronic toys
Laboratory equipment
EU Textiles Labeling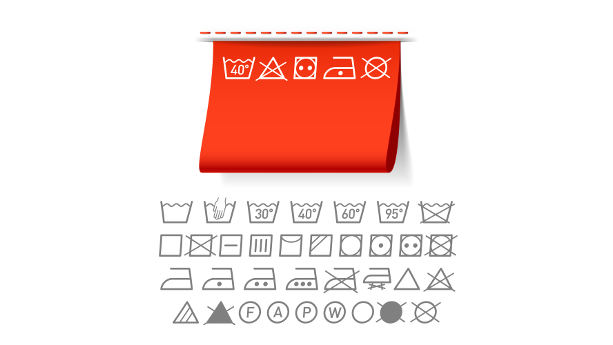 Clothing, and other products containing a minimum 80% by weight of textile fibers must be labeled with the correct fiber composition (e.g. 100% Cotton or 100% Polyester).
Further, the label must be permanent, which means it must either be attached to the clothing item or printed. A sticker is not enough.
Product Examples
T-shirts
Underwear
Children's clothing
Babywear
Headwear
Optional
Care labels (Recommended)
Size (Recommended)
Country of origin
Note: Some of the items listed above are required in individual EU member states. As such, it's strongly recommended that you always include care labels and size.
EU Clothing & Textiles Ecolabel
The voluntary EU ecolabel for clothing and textile products can only be used if the product meets the following criteria:
Limited use of substances harmful to health and environment
Reduction in water and air pollution
Colour resistance to perspiration, washing, wet and dry rubbing, and light exposure
EN 71 Toy Labeling
Importers and manufacturers of toys must ensure that the product and the packaging carry the correct age warning labels, tracking ID and contact details of the seller (e.g. manufacturer and importer).
You need a physical address in the EU, which could either be your office or a postbox. However, a website address is not sufficient.
Tracking Label
Some products, including toys, must carry a tracking label to ensure that unsafe products can be recalled in an effective manner. A tracking label normally consists of the following parts:
SKU
Purchase order date
Manufacturing facility
Country of origin
Example: ABC-062020-GZ1-CN
Food Contact Materials Labeling
Certain types of food contact materials, such as kitchen appliances and tools, must carry the glass and fork symbol represented above. However, it's only needed if the products use as food contact material is not obvious to the end consumer.
For this reason, you don't need this symbol in case you are manufacturing or importing 'food contact materials' used in daily life, such as cutlery, drinking glasses, and common kitchen appliances.
Other Labels
EU Directive Labels
In addition to the CE mark, some directives also require product labels to include additional information. This may include manufacturer or importer identify, address, SKU, user instructions, input voltage or other information.
EU Energy Labels
EU Energy Labels are mandatory for various types of home appliances, such as refrigerators and dishwashers, but also LED bulbs and other product types. The EU Energy Label rates the energy efficiency of the device, based on an A to D scale.
Its purpose is to help consumers choose more energy and cost-effective appliances.
Packaging Recycling Labels
Product packaging recycling labels are used to indicate whether the material is recyclable, material types (e.g. plastic resin types) and the seller's contribution to national packaging recycling schemes.
Examples
The Green Dot
Mobius Loop
Plastic Resin Codes
Footwear Labels
The upper material, outer sole and inside lining of the shoe must be correctly labeled. You can use written instructions to specify the materials or use a graphical representation of the shoe.
Example Materials
Leather
Synthetic leather
Coated leather
Textile fiber
Amazon (EU) Product Labeling Requirements
While Amazon doesn't set their own labeling requirements, they do require that all products sold on their platform are compliant with labeling and other compliance requirements in each respective country.
If you're selling on Amazon.de, Amazon.co.uk or Amazon.fr, you need to ensure that your product is labeled according to European Union product labeling requirements.
For example, products that fall within RoHS or the Low Voltage Directive must, therefore, be CE marked. On the other hand, products and certain components (e.g. chargers) that should not carry a certain label, such as the CE mark, must also comply with this requirement.
Amazon is strict about compliance and far more likely to take action against an incorrectly or otherwise non-compliant products than the customs or other market surveillance authorities.
Why your product may need more than one label
It's common that products are covered by more than one labeling requirement in Europe. Electronics, for example, must often carry the CE mark and the WEEE mark, in addition to directive specific labels.
Importers and manufacturers must take all applicable labeling requirements into consideration, rather than looking for labeling requirements that may apply specifically to that product.
In addition, labeling requirements also extend to the packaging and even user manuals.
FAQ
Do I need a country of origin label when selling in the EU?
No, country of origin labeling is generally not required in the European Union. That said, many products sold in the European Union still carry a country of origin label (e.g. Made in China) as this is a requirement in many other countries, including the United States.
If you're selling, or at least planning to sell, in the United States, you may as well get your product labeled according to US labeling requirements – in addition to those in the EU.
Further, although the country of origin is not required, you are not allowed to mislead consumers by claiming that the product is manufactured in another country than it actually is.
How do I know if my supplier labels the product correctly?
Manufacturers, at least outside the EU, are not compliance experts. They don't keep track of labeling requirements in other countries and simply rely on their buyers to provide accurate label files.
As such, it's essential that you create compliant label files and submit these to your supplier before entering production.
How do I create the label file?
You can use Adobe Illustrator, Photoshop or any other software. What matters is that you create a label file that is an accurate representation of the label you want to be printed on the product, packaging and user manual, if required.
Recommended file formats
Additional information
Dimensions
Color
Print type
Print position
How do I make sure my factory gets the label right?
I strongly recommend that you include a label check to your standard quality control checklist. Assuming you're importing products from overseas, it's only a matter of providing photocopies and design drawings showing the labels, dimensions and where (e.g. product, packaging, and manual) the labels should be present.
The quality inspection agent can take photos of the labels, helping you decide whether the products are correctly labeled or not.
What should I do if my product is incorrectly labeled?
You need to instruct your supplier to relabel the product, assuming the items are still in their production facility. If not, you must either return or relabel the products.
However, it's often impossible, or expensive, to relabel an incorrectly labeled product – so you better make sure that you provide label files and detailed documentation to your supplier to prevent such situations from occurring in the first place.
Can I label the product once it's imported into Europe?
In general, a product must be correctly labeled 'once it's placed on the market'. This can be interpreted in different ways, which is why I recommend that you ensure that your product is correctly labeled before the product is imported into the EU.
It's also more expensive to label products once inside the EU, compared to instructing your manufacturer to do it for you.
There are also cases in which the customs authorities have seized imported products for not being correctly labeled.
All in all, there's no benefit in labeling the products once in Europe, assuming you are not manufacturing inside the EU.
Are barcodes required when selling in the EU?
Barcodes are not mandatory but strongly recommended if you intend to sell to retailers or online marketplaces.
Some of the companies that use and require GS1 barcodes include: Amazon, Tesco, Sainsbury's, John Lewis, WHSmith, Unilever, Ocado, Nestle, Google, Fruugo, La Redoute, New Egg, NHS, Walmart, Macy's.