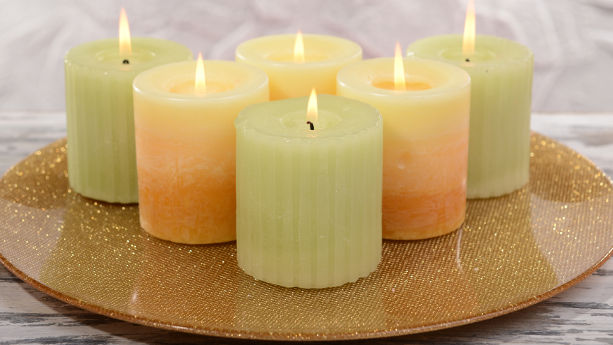 Importing and manufacturing candles in the European Union requires that you understand the various safety standards, labeling, and documentation requirements. Keep reading, and learn more about the relevant EN standards, General Product Safety Directive (GPSD), lab testing, REACH, and more.
Mentioned Products
Wax candles
Indoor candles
Floating candles
Freestanding candles
Tea light candles
General Product Safety Directive (GPSD)
The General Product Safety Directive aims at establishing general safety principles for consumer products placed on the market of the EU, including candles.
Thus, manufacturers and importers of candles in the EU should conform to the requirements of the directive, with particular attention to fire safety and soothing behavior.
EN Standards
EN Standards provide specific procedures and test methods that can be applied to assess the safety and performance of specific products. Below, we list some EN standards specifically developed for candles.
EN 15493 – Candles – Specification of Fire Safety
EN 15493 defines requirements and test methods for the fire safety of candles intended to be burned in indoor environments. The standard covers floating candles, indoor candles, non-freestanding candles, and freestanding candles.
Here some examples of the requirements:
a. Freestanding candles that are advertised as "self-extinguishing" shall not burn any paper positioned under the candle or leave any burning marks. Instead, they shall self-extinguish beforehand.
b. The wick shall stop to smoke within a predetermined time, starting from when the burning time is finished.
As you can see, the requirements mainly aim at avoiding that heat might propagate, once the candle has reached its burning time.
EN 15426 – Candles – Specification for Sooting Behavior
Soot is the result of incomplete combustion of the candle's wax. A high degree of soot, which may end up deposited on the walls and furniture of the house, is usually synonymous with low quality.
EN 15426 specifies requirements and the test method for the sooting behavior of burning indoor candles. This standard covers single wick container candles, non-freestanding candles, and freestanding candles with a diameter up to 100mm or equivalent intended to be burned in the indoor environment.
Documentation
Manufacturers and importers may need to keep records that demonstrate the compliance of the products in order for the authorities to hold accountability on the relevant parties and avoid potential risks during the circulation of the products in the member states of the EU.
Risk Assessment Report
Under the GPSD, candle manufacturers and importers should perform a comprehensive risk assessment of their products before placing them on the market. The risk assessment process allows manufacturers, importers, and authorities to assess the degree of seriousness of damage that might be caused by non-compliant products.
A proper risk assessment report will help to determine the remedial measures to be taken in the future, such as rapid intervention, or proportionate corrective action. All relevant potential product hazards, including structural, chemical, and other types should be taken into account in the risk assessment report.
The following information should be explicitly determined and explained in the risk assessment report:
Product information
Description of potential hazards, their nature and the severity they could cause (ie. fire danger)
Description of how the hazard may harm the users
Uncertain factors related to the risk assessment
User Manual
The GPSD does not explicitly demand a user manual from manufacturers or importers. However, providing end-users with a manual with clear and detailed usage instructions is recommended since it could improve safety by demonstrating the proper way to handle the product.
The following are some information you may want to include in the product user manual:
Installation or assembly methods
Information on each component and part
Safety instructions
Usage instructions
Technical File
A technical file includes product information and specification, applicable standards, labeling files, and more. Preparing a copy of the technical file will facilitate the future process of inspection and compliance assessment by the EU authorities.
A technical file should contain the following information:
Safety evaluation and risk assessment report
List of standards your product is currently complying with
Instructions of use
Labeling and traceability information
Test Report
The GPSD does provide a list of harmonized standards. However, the GPSD does not explicitly specify EN or ISO standards for every single category of products. However, importers should still ensure the safety of the products before placing them on the market.
The most straightforward strategy to achieve compliance is often to contact a reputable lab testing company, conduct testing for the applicable standards, and obtain a valid testing report that shows product compliance with such standards.
Labeling Requirements
Product Safety Labels
EN Standard 15494 establishes requirements for the safety label of regular candles, floating candles, container candles, tea light, and outdoor candles. It covers safety label information, warning text and additional safety symbol specification.
Traceability
One of the measures taken by the GPSD concerning the general safety of products imported to the member states of the EU is the establishment of a traceability system.
The directive requires general consumer products, including candles, to bear relevant information on the product itself or the packaging, such as:
Name of the manufacturer or importer
Address of the manufacturer o or importer
Contact information of the manufacturer or importer
Product identity (ie. batch or model number)
Lab Testing
In order to assess product compliance according to relevant standards, manufacturers and importers should arrange lab tests. Below, we list two standards relevant for candles:
EN 15493 – Candles – Specification for Fire Safety
EN 15426 – Candles Specification for Sooting Behaviour
This is a list of lab testing agencies that offer EN standards lab testing services for candles:
RAL: Candles Quality Standards
The RAL German Institute for Quality Assurance and Labelling company has developed its own voluntary quality standards for paraffin candles, wax candles, and other related products, as well as a related quality mark.
RAL GZ-041/1
The RAL GZ-041/1 determines the content, testing method, soot index, and labeling and marking requirements for indoor candles.
The standard set requirements for several factors, including:
Burning properties
position of the wick
sooting behavior, which must comply with EN 15426
dimensions of the candle and the candle's burning time
RAL GZ-041/2
RAL-GZ 041/2 establishes similar requirements, for tea light candles.
RAL GZ-041/3
RAL-GZ 041/2 establishes similar requirements, for graveyard lights.
RAL Quality Mark
Products that meet the requirements set by the RAL standards can affix the RAL Quality Mark on both their products and labeling. Today, according to the RAL's website, there are 38 European manufacturers that can display the mark. Their total production accounts for roughly half of the EU total candles production.
REACH
REACH regulates the content of chemical substances in general consumer products, including candles. Candles can generate several kinds of toxins that might harm human health.
For example, the paraffin wax used to make the main body of the candle might generate benzene and toluene when burned, which are known as carcinogens and are restricted by REACH. Some candle wicks contain lead, which might damage the brain development of children, and is also restricted by REACH.
Additionally, scented candles might contain phthalates, which are also regulated by REACH.
Substances of Very High Concern (SVHC)
The substances we mentioned above are just some examples of substances that might be present in candles and are regulated by REACH.
More in general, the EU adds new substances to the list of Substances of Very High Concern (SVHC), which is a list of substances or chemicals that are considered to be harmful to human health or the environment, on an irregular basis.
Importers should contact a reputable third-party testing company to have a thorough consultation on the information about the restricted substances that might contain in their candles and the accessories.
Lab testing
In order to ensure that their candles are compliant with applicable standards and regulations, importers should arrange lab tests for their products. Companies that offer REACH compliance tests include SGS, QIMA, and TUV.
You can learn more about REACH lab testing in this article.
Directive 94/62/EC: Packaging Regulations
In addition to the product itself, importers and manufacturers should also ensure the compliance of product packaging materials. The following summarized packaging materials and waste requirements in the European Union.
Heavy Metals Restrictions
The Directive 94/62/EC restricts the use of heavy metals, such as lead, mercury, and cadmium in packaging materials, including wrappers and printing inks of the packaging.
To ensure the safety and compliance of product packaging, importers can conduct relevant lab testing.
Some companies like Intertek, SGS, TUV, and QIMA provide testing services for product packaging.
Additional Packaging Information
a. Product packaging should be designed in a way that is easy to recycle and reduce pollution in the environment.
b. Product packaging should also conform to applicable labeling regulations in the EU and be properly labeled.