Planning to import or export products to the United States? In this article, we explain what you must know about product and packaging labeling requirements, covering everything from clothing and electronics to children's products and household items.
Note that this article covers both federal and state-level labeling requirements.

Country of Origin
The country of origin must be visibly printed on the product and packaging. For example, products manufactured in Vietnam should be labeled as 'Made in Vietnam.
Note that you are not allowed to transship a product to a third country for relabeling. The same applies to repackaging or minor adjustments made for the sake of claiming that a certain product was manufactured in a different country.
Examples
Made in China
Made in Vietnam
Made in the United States
Made in Germany
Watches
Watches are labeled differently than other products, as it's the movement origin, rather than the manufacturer origin, that is deemed important. As such, many watches with Japanese movements are labeled as such, even though the actual manufacturing and assembly of the final product take place in China.
Products: All consumer products
CPSIA Tracking Label
Toys and other children's products imported or manufactured in the United States must carry a permanent CPSIA tracking label.
Manufacturer name
US address
US phone number
Website
Date of production
Production location
Batch number
The purpose of the tracking label is to ensure that non-compliant and unsafe products can be identified and returned back to the seller.
Products: Toys and other children's products
What is a Batch number?
The batch number identifies the production run, manufacturing facility, and country.
Example: SKU-YYMM-01-CN
CPSIA Choking Hazard Warnings
Choking hazard warning labels are mandatory as part of CPSIA. Consult your product testing company to assess if any of the following choking hazard labels are relevant for your product:
WARNING: CHOKING HAZARD – Small parts
Not for children under 3 years.
WARNING: CHOKING HAZARD – This toy is a small ball.
Not for children under 3 years.
WARNING: CHOKING HAZARD -Toy contains a small ball.
Not for children under 3 years.
WARNING: CHOKING HAZARD – Children under 8 years can choke or suffocate on uninflated or broken balloons.
Adult supervision required.
Keep uninflated balloons from children.
Discard broken balloons at once.
WARNING: CHOKING HAZARD – This toy is a marble.
Not for children under 3 years.
WARNING: CHOKING HAZARD – Toy contains a marble
Not for children under 3 years.
Products: Toys and other children's products
Clothing Labeling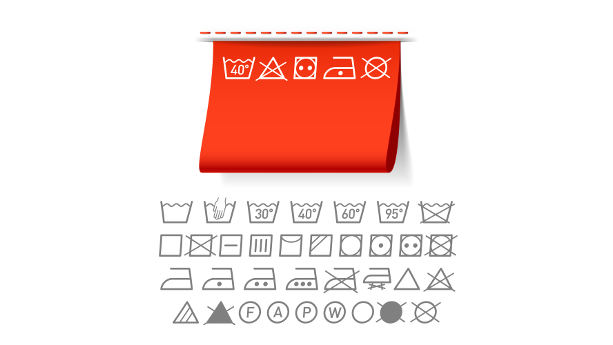 Apparel imported or manufactured in the United States must carry a permanent (e.g. nylon patch or printed) textiles label. Its purpose is to inform the customer of the fiber composition and care.
Importer or manufacturer information
Fiber composition (e.g. 100% cotton)
ASTM care labels (link)
English language
Registered Identification Number (RN)
Manufacturers or importers can choose to use a Registered Identification Number (RN) instead of your company name on the product label. Applicants are required to submit the following information to the FTC:
Business email address
Legal business name/company name
Company address
Company type (ie. LLC, partnership)
Business type (Ie. importer, manufacturer retailer)
Phone number and website URL, if any
Is size mandatory on the textile label?
Size is not mandatory but recommended as it's expected by consumers.
Are there standard clothing sizes in the United States?
While not mandatory, there are standardized US clothing sizes for both men and women, across different age groups and products.
Examples
1. ASTM D5585-95, 2001, Standard Table of Body Measurements for Adult Female[5]
2. ASTM D6829-02, 2008, Standard Tables of Body Measurements for Juniors
3. ASTM D5585-11, 2011, Standard Tables of Body Measurements for Adult Female Misses Figure Type, Size Range 00–20
4. ASTM D6240-98, 2006, ASTM D6240-98 Standard Tables of Body Measurements for Men Sizes Thirty-Four to Sixty (34 to 60)
Products: Clothing
FCC Labeling Requirements
The FCC compliance mark signals to the consumer that the electronic product is compliant with all applicable FCC regulations, concerning electromagnetic interference. The FCC compliance mark should either be permanently affixed on the product or the manual – assuming the product itself is too small for the FCC mark.
Note that the FCC logo is now optional for devices that must be authorized via the SDoC procedure.
General Requirements
Responsible party name (e.g. importer or manufacturer)
Responsible party address
Responsible party contact details
Product Model / Serial number
Compliance statement
FCC ID (if applicable)
FCC ID
An FCC ID label is mandatory for devices that are subject to the certification procedure. Manufacturers and importers must display the FCC ID on the product, in either physical or e-label form (for products that have a screen).
Products: Electronics
California Proposition 65 Warning Label
California Proposition 65 restricts more than 800 chemicals and heavy metals in consumer products sold in California.
"If a product contains a listed chemical, then the product must contain a "clear and reasonable" warning label informing consumers of the presence of the chemical and stating the chemical is known to cause cancer, birth defects, or other reproductive harm." – Daniel Herling, Member at Mintz Levin
As such, you can either get the product lab tested to prove that it doesn't contain any of the listed chemicals, or ensure that the product carries a warning label.
CA Prop 65 Warning Label Example
---
This product can expose you to chemicals including [name of chemicals] which are known to the State of California to cause [cancer/birth defects or other reproductive harm]. For more information go to www.P65Warnings.ca.gov
---
Products: Consumer products sold in California
Bag Suffocation Warning
Bag Suffocation Warning labeling is required when selling products in certain types of plastic bags on Amazon, and also a legal requirement in California, New York, and other states. Note that the specific warning labeling requirements (e.g. the text printed on the plastic bag) differ depending on the following factors:
Size of the bag opening
Bag volume
Bag dimensions
Product type
Amazon Example
---
Warning: To avoid the danger of suffocation, keep this plastic bag away from babies and children. Do not use this bag in cribs, beds, carriages, or playpens. This bag is not a toy.
---
Products: Products packed in plastic bags
US Law Label
The law label is required in many US states for beddings, plush toys, bean bags, or other stuffed products. Its purpose is to inform the consumer of the filling materials, and the company selling the product.
Label Information
"Do Not Remove" Statement
Filling materials (Weight %)
Uniform Registry Number (URN)
Company Name
Uniform Registry Number (URN)
Note that you need to register to obtain a Uniform Registry Number (URN).
Products: Stuffed Products
UL Mark
The Underwriter Laboratories (UL) symbol indicates that the product is either manufactured by a UL listed supplier or that that the product has passed the UL testing and certification process. As such, you cannot affix the UL mark to a product that is purchased from a non-UL listed supplier or has not passed their testing procedure.
UL Marks
UL Standards Examples
UL 1642 – Standard for Lithium Batteries
UL 20 – General-Use Snap Switches
UL 2595 – General Requirements for Battery-Powered Appliances
UL 2089 – Standard for Vehicle Battery Adapters
UL 1740 – Standard for Robots and Robotic Equipment
UL 879A – Standard for LED Sign and Sign Retrofit Kits
Note that UL compliance is not mandatory, but strongly recommended if you are importing, exporting, or manufacturing electronic products for the US market.
Products: Electronics
ETL Mark (Intertek)
Intertek has its own compliance program called the ETL Certification program. Products that pass the necessary testing can use the ETL Mark, which signals compliance with standards in the United States and Canada.
The ETL Mark is therefore not mandatory but still recognized by consumers, retailers, and the authorities as a reliable compliance mark.
FHSA Warning Label
The Federal Hazardous Substances Act (FHSA) requires that certain types of toxic and hazardous household products, such as strong carry storage instruction and general safety labels. Note that FHSA is applicable to all household products that fall within any of the following classifications:
Toxic
Corrosive
Flammable
Combustible
Irritant
Strong sensitizer
FHSA product examples
Cleaning products
Cosmetics
Art materials
Charcoal
Chemistry sets
FHSA label information
Manufacturer or seller identity
Address
Hazardous ingredients
Signal word: Danger, Poison, Caution and/or Warning (depending on the classification)
Hazard (e.g. Flammable, Causes burns etc)
Precautionary safety statement/instructions
First aid treatment information
Information about storage or handling
The statement "Keep out of the reach of children"
Products: Household products
Amazon Product Labeling Requirements
Products sold on Amazon.com must comply with all mandatory labeling requirements and other product regulations. Further, Amazon.com can request product and packaging photos demonstrating that the correct labels are present.
There are also cases when Amazon has even declined product listings for having labels that should not be printed on the product. Amazon is strict about compliance and far more likely to take action against incorrectly or otherwise non-compliant products than the US customs or CPSC.
Why your product may need more than one label
It's often the case that more than one label is applicable to a certain product. Textiles, for example, must both have the textiles label, which includes both the fiber composition and ASTM care symbols – and the country of origin.
Another example is electronic toys, which may need to carry the following labels:
CPSIA tracking label
FCC symbol
Country of origin
This is also why it's difficult to find complete information on government websites, such as CPSC.gov or FCC.gov, as each only cover their own – overlapping – product labeling requirements.
FAQ
How do I create the label file?
You can use Photoshop or Adobe Illustrator. What matters is that the label file is an accurate representation of the product label. A common mistake I note among importers is to merely list the information the supplier must include (e.g. country of origin).
Another option is to hire a freelancer to do it for you, but make sure that the 'label information' is correct.
How do I make sure my factory gets the label right?
The key is to verify that the product is correctly labeled before shipment to the United States. Product and packaging labels can easily be checked by your existing quality inspection agents, while also testing the product.
Make sure the inspectors are provided with clear photocopies of the product and packaging labels and report their findings accordingly. Keep in mind that it may not be possible to relabel a product with incorrect or missing labels.
Can label the product once it's imported into the United States?
Relabeling products can in some cases be accepted, but it's strongly recommended that it's done while still in the factory. Assuming it's even possible to relabel the product, it's an expensive and time-consuming process.
Is the CE mark required in the United States?
The CE mark is only applicable in the European Union and is therefore not required in the United States. That said, many products sold in the US carry the CE mark for the simple reason that international brands normally ensure compliance with product regulations in all major markets.